Credit: CC0 Public Domain

Researchers have developed a solar paint that can absorb water vapour and split it to generate hydrogen – the cleanest source of energy.
The paint contains a newly developed compound that acts like silica gel, which is used in sachets to absorb moisture and keep food, medicines and electronics fresh and dry.
But unlike silica gel, the new material, synthetic molybdenum-sulphide, also acts as a semi-conductor and catalyses the splitting of water atoms into hydrogen and oxygen.
Lead researcher Dr Torben Daeneke, from RMIT University in Melbourne, Australia, said: "We found that mixing the compound with titanium oxide particles leads to a sunlight-absorbing paint that produces hydrogen fuel from solar energy and moist air.
"Titanium oxide is the white pigment that is already commonly used in wall paint, meaning that the simple addition of the new material can convert a brick wall into energy harvesting and fuel production real estate.
"Our new development has a big range of advantages," he said. "There's no need for clean or filtered water to feed the system. Any place that has water vapour in the air, even remote areas far from water, can produce fuel."
His colleague, Distinguished Professor Kourosh Kalantar-zadeh, said hydrogen was the cleanest source of energy and could be used in fuel cells as well as conventional combustion engines as an alternative to fossil fuels.
"This system can also be used in very dry but hot climates near oceans. The sea water is evaporated by the hot sunlight and the vapour can then be absorbed to produce fuel.
"This is an extraordinary concept – making fuel from the sun and water vapour in the air."
More information: Torben Daeneke et al, Surface Water Dependent Properties of Sulfur-Rich Molybdenum Sulfides:
Electrolyteless Gas Phase Water Splitting, ACS Nano (2017). DOI: 10.1021/acsnano.7b01632
Provided by: RMIT University
A new $AUD30 million research facility at RMIT University in Melbourne, Australia, will drive cutting-edge advances in micro- and nano-technologies.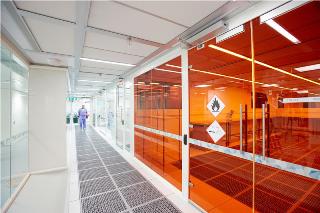 The MicroNano Research Facility (MNRF) will bring to Australia the world's first rapid 3D nanoscale printer and will support projects that span across the traditional disciplines of physics, chemistry, engineering, biology and medicine.
The City campus facility will be launched by Vice-Chancellor and President, Professor Margaret Gardner AO, on Wednesday, 27 August.
Professor Gardner said the opening of the state-of-the-art laboratories and clean rooms was the start of an exciting new chapter in cross-disciplinary nano research.
"At the heart of the MicroNano Research Facility's mission is bringing together disparate disciplines to enable internationally-leading research activity," she said.
"RMIT has long been a pioneer in this field, opening Australia's first academic clean rooms at the Microelectronics and Materials Technology Centre in 1983.
"Over three decades later, this investment in the world-class MNRF will enable RMIT's leading researchers to continue to break new ground and transform the future."
Among the equipment available to researchers in the 1200 square metre facility will be the world's first rapid 3D nanoscale printer, capable of producing thousands of structures – each a fraction of the width of a human hair – in seconds.
Designed by architects SKM Jacobs, the MNRF also offers researchers access to more than 50 cutting-edge tools, including focused ion beam lithography with helium, neon, and gallium ion beams to enable imaging and machining objects to 0.5 nm resolution – about 5 to 10 atoms.
Director of the MNRF, Professor James Friend, said 10 research teams would work at the new facility on a broad range of projects, including:
building miniaturised motors – or microactuators – to retrieve blood clots from deep within the brain, enabling minimally invasive neurological intervention in people affected by strokes or aneurysms;
improving drug delivery via the lungs through new techniques that can atomise large biomolecules – including drugs, DNA, antibodies and even cells – into tiny droplets to avoid the damage of conventional nebulisation;
developing innovative energy harvesting techniques that change the way batteries are recharged, using novel materials that can draw on the energy generated simply by people walking around; and,
inventing ways to use water to remove toxins from fabric dyes, with new nanotechnologies that can facilitate the breaking down of those dyes with nanostructured catalysts.
"This facility is all about ensuring researchers have the freedom to imagine and safely realise the impossible at tiny scales and beyond," Professor Friend said.
"Having access to purpose-designed laboratories and leading-edge equipment opens tremendous opportunities for RMIT and for those we collaborate with, enabling us to advance the development of truly smart technology solutions to some of our most complex problems."
Laboratories in the MNRF will include:
Gas sensors laboratory
Metrology laboratory
Novel Fabrication laboratory
PC2 mammalian cell laboratory
Photolithography laboratory
Physical vapour deposition laboratory
Polydimethylsiloxane (PDMS) and nanoparticle laboratory
Wet etch laboratory
Support laboratory
The MNRF will be a key enabler of RMIT's flagship Health Innovations Research Institute and Platform Technologies Research Institute.
A unique teaching facility will also be affiliated with the MNRF.
The Micro Nano Teaching Facility (MNTF) is the first of its kind in Australia, enabling undergraduate and postgraduate engineering student trainees to study clean room operations and micro-fabrication